A couple of weeks ago, I shared with you a old cedar chest that I have had over 20 years but never used in my new home. At last, I have decided not to paint it and leave as is. I am so glad and I am happy with the natural wood look.
Over the weekend while in Hilton Head, I was shopping at Fresh Market and saw these beautiful hyacinth flowers so I had to have them. After bringing the table down to the living room, I thought I would decorate it a little for the spring season. I placed the lilac colored hyacinth flowers in an ironstone pitcher in the basket tray that I already had. The bird nest was bought recently in a gift shop in Beaufort as I wanted to add some spring touches and texture to the tabletop. I just shopped around the home for the other items for the table.
So there you have it.....some simple, yet spring like accents to my cedar chest coffee table that I just love!
I have had this metal rabbit for years and the bucket is waiting for some Hershey kisses in pastel colors to be added for it to hold!
Thanks for your visit! Hope you are enjoying your week so far!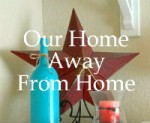 Also linking to: http://www.astrollthrulife.net/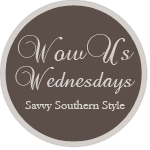 Also linking to: http://jannolson.blogspot.com/2014/03/share-your-cup-thursday-96.html